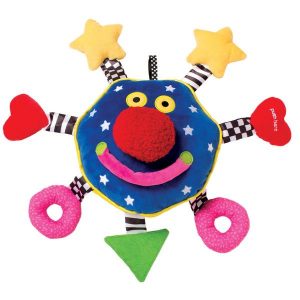 Children everywhere have been looking through toy magazines and adding to their holiday wish lists for as long as we can remember. As parents, it's easy to get "sucked into" buying toys that are trendy, but not necessarily ones that will engage a child's interest in the long term. As in years past, here are recommendations for some of the best visually stimulating and educational toys we have found for the upcoming holiday season.
Toys for Baby (under 1 year)
Why is visual stimulation important for a baby? Visual stimulation for a baby – showing them shapes, colors and patterns with different light intensities – can help aid in the development of the lateral geniculate nucleus and the striate cortex. Want to provide your baby with robust brain growth and faster visual development? Here are some toys that encourage their curiosity, visual stimulation and coordination.
Baby Einstein offers variations of toy bars that can be used in a car seat, pack n' play, and more. Some toy bars can be propped up on the floor as the baby grows. Designed to enrich your baby's play, there are different modes to assist in visual stimulation, offering lights and music. For babies, you'll notice most of the toys are brightly colored and visually stimulating for a reason. Different colors and textures make toys very appealing for babies, especially as they play with a toy, learning different outcomes along the way. With the Whoozit made by Manhattan Toy, for example, one part of the toy may squeak and the other may rattle. There's even a hidden mirror, too.
Toddlers (1-3)
From kaleidoscopes to light show lamps, there are many visually stimulating toys that can be used in your toddler's playroom and to educate. When shopping, there are many kaleidoscopes to choose from that provide the ability to keep your toddler entertained for hours. The Mini Spinny, a toy that is also recommended for children with autism, is a popular visual toy that engages children as its colorful wheels spin down a bar and, when flipped over, the spinning continues. If you want to teach your toddler cause and effect, this is a great toy.
The Oombee Cube, a twist on the classic shape-matching cube, has an ergonomic design with pieces that are attached so they won't end up missing. With very colorful shapes, your child will enjoy vital hand-eye coordination, spatial reasoning and enhanced motor skills. Each shape also offers different textures. Another multisensory toy is the UV Instant Sculpture that will keep your preschooler busy for hours. Your toddler can create a multitude of shapes by pressing items into the pins as they glow. You can find the Oombee Cube, along with many other educational toys, on their website.
Kindergartener through 4th Grader (and beyond)
Puzzles are great for visual stimulation, and the GeoMagic Mosaics found at Fat Brain Toys provide a great opportunity for your child to "get creative!" Children can either try and recreate existing images with the colorful blocks or create their own art. Each set offers 250 blocks with 8 geometric shapes.
As your child gets older, there are a multitude of building toys which stimulate their senses. ZOOB Builder is a STEM Challenge toy that lets children design, invent and build their own toys like vehicles, monsters and more. The best part? It teaches children how to apply science, technology, engineering and math (S.T.E.M.). There is even a Harry Potter Coding Kit for kids wanting to learn coding or programming, found on Amazon.
Sensory toys help build nerve connections to the brain while encouraging the development of motor skills, which can result in your child being able to complete more complex learning tasks. By encouraging your children to play with sensory toys, you are contributing to their language development, cognitive growth, fine and gross motor skills, problem solving skills and social interaction. For more information on improving your child's vision development, please call us today at 618-288-1489 or visit us at www.VisionForLifeWorks.com. The Vision For Life team wishes you and your family a happy and healthy holiday season!