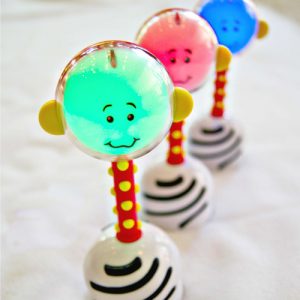 The holidays are right around the corner. Chances are that your children have had their wish lists done for months, and have reminded you day in and day out about the Nintendo Switch® or the Hatchimals® that they just have to have. Before you begin crossing off the gifts on your children's endless lists, learn about these toys that are not only fun, but can also improve your child's vision. We have gathered some of the top visual development toys to make parenting and your holiday shopping a little easier:
Toys for Babies up to 5 Months
If you have a little one at home or in your family, large, bright rattles and shake toys are ideal. These toys will help stimulate the child's vision and improve their overall sense of sight. The "NogginStik Development Rattle" is great for babies 2 months and older. It has been reviewed as one of the best baby toys on the market. This rattle not only stimulates a baby's sight, but also his or her hearing and sense of touch. The head of the rattle changes colors, which will keep your child engaged and entertained.

Toys for Babies between 6-8 Months
At this age, your child's vision is still developing, making it an imperative time to strengthen his or her skills. This is also the time where your child is becoming more and more interactive with his or her toys, making play time even more fun! Baby books that are filled with bright colors, various textures and materials are a great gift. They not only encourage your child's visual development, but they also will encourage your child to love reading!
Toys for Babies between 9 – 12 Months
During this stage in your child's life, his or her teeth are most likely coming in. The teething process is a stressful time for both your child and you. Why not get them a toy that not only soothes them during teething, but also enhances their vision? The "Green Keys Clutching Toy" is bright, and each key is a different color. This toy promotes visual development, as well as hand eye coordination.

Toys for 1-year Olds
During this stage, your child is more interactive and mobile than ever before. You want to purchase toys that are educational, but that are also fun and able to hold your child's attention. The "Stack N Spray Tub Fountain" can take away the dread of bath time. This toy stacks, spins and squirts! The bright colors and movement increases your child's motor skills and improves their hand-eye coordination.
Toys for 2-year Olds
At this age, the more interactive the toys are, the better. You want to shop for toys that encourage their eyes and hands to work together during playtime, which is extremely important at this age. The "Rolligo" is the perfect gift for the "terrible twos." This toy has ten bright-colored spheres that can be pushed forwards, backwards or sideways in the rack. This safe, simple toy encourages sensory exploration along with motor skills. The constant movement of the multi-colored balls will keep your little one intrigued for hours during playtime.
Toys for 3 to 6 Year Olds
The list of toys that benefit your child's vision are endless for this age category. At this stage, your child can really begin playing and interacting with other children there age. Try shopping for toys that are not only great for your child's vision, but that also encourage teamwork. "Pattern Play" is a puzzle containing bright-colored blocks and cards that teach your child to sort and match. The cards are ranked in order of difficulty, ranging from beginner to expert, which means that your child can enjoy this toy for years to come! Children can work together to conquer the puzzle, and can also arrange the blocks into their own creative designs. This toy is a parent's favorite, as it strengthens visual and social skills, as well as teaches patience and encourages children to use their imagination.
With these toys tucked under your Christmas tree, you can rest assured that your children will not only love their gifts, but will benefit from them too! Buying your children vision development toys will help improve their overall mental, physical and social development. For a list of vision-strengthening toys, please visit http://www.mindware.orientaltrading.com. For more information on improving your child's vision development, please call us today at 618-288-1489 or visit https://visionforlifeworks.com. The Vision for Life team wishes your family the happiest of holidays!