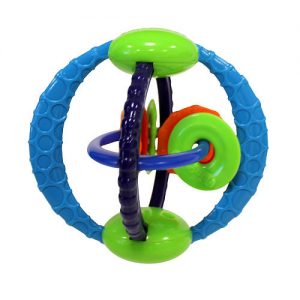 Christmas is right around the corner. Your children have given you their Christmas wish lists and have mentioned how badly they need the Barbie Hello Dream House and Teenage Mutant Ninja Turtle play-set on more than one occasion. Before you go hunting down these toys at your local toy store, did you know that certain toys and games could help improve your child's vision? These vision development toys are so interactive and fun that your children will not even realize that they are doing more than simply entertaining them. Toys to improve eye coordination and more can be fun AND effective. We have gathered some toy tips to make your holiday shopping easier this season:
Toys for Babies up to 5 Months
Large, bright rattles and shake toys will help stimulate your child's vision and improve their overall sense of sight. Toys that are bright and that make noise will grab and keep their overall attention. The "Oball Twist O-Round" is great for babies 3 months and up. It is an interactive toy that is great for vision stimulation due to its vibrant colors and various shapes that intrigue babies to push, pull, grasp and chew.
Toys for Babies between 6-8 Months
At this age, your children's vision is still being developed and strengthened, and your baby is becoming more interactive with his or her toys. Bright, floating bath toys not only make bath time fun, but also visually stimulating. Reading your baby a book that is filled with bright colors, various textures to touch and materials to pull or grab on each page is great for their vision development. Reading to them at a young age will also encourage them to keep reading through their entire childhood. "Tobbles Neo" is a great toy for developing your child's ability to visualize abstract things. The colorful, stackable spheres encourage sensory exploration, motor skills and visual spatial acuity. This toy's stacking, spinning and balancing features is an invitation for timeless play for your baby!
Toys for 1-year Olds
During this age, your child is more interactive and mobile than ever before. You want to purchase toys that assist in sharpening your child's general eye movement and eye-hand coordination skills. Bright colored alphabet blocks will help your child develop visual memory skills needed for reading and comprehension. Throwing a bright-colored ball back and forth with your child will not only easily entertain them; it also helps develop strong hand-eye coordination skills.
Toys for 2-year Olds
At this age, the more interactive the toys are, the better. Puzzles, peg hammering toys, sorting shapes and sizes toys and ring toss games are all ideal toys for your child's vision development. These toys encourage their eyes and hands to work together during playtime, which is extremely important. The "Seek-a-boo!" game uses matching and repetition to help strengthen your child's recognition of shapes, colors and objects. It also helps your child develop strong memory, vocabulary and motor skills. A great plus for these toys are that they are so engaging; they will keep your child entertained and happy for hours on end!
Toys for 3 to 6 Year Olds
The list of toys that benefit your child's vision are endless for this age category. Building toys, puzzles, crayons, finger paint, play-dough, balls and sticker games are just a few of the toy options to have your child unwrap this Christmas. The "Imagination Magnets" set is a great gift as it promotes spatial relation, pattern recognition and concentration. This is the fun age where children can really begin playing and interacting with other children their age. Buying games that encourage teamwork with others are always great for social development.
Make sure the toys wrapped under your Christmas tree this year will not only benefit your children, but will also benefit you as their parent. Buying your children vision toys will help improve their overall mental, physical and social development. For a list of vision-strengthening toys, please visit http://www.mindware.orientaltrading.com. For more information on improving your child's vision development, please call us today at 618-288-1489 or visit our website. Give your child a gift that keeps on giving this year!